The Property at Willow Creek
Willow Creek is not a life style. It is a actual style of living.
With over 100 acres as your own Equestrian community and playground, Willow Creek Estates offers natural beauty with a unique spirit of community in the rolling hills of Southern, Connecticut. Imagine waking up in the morning and walking directly into your own equestrian village.
An actual community of trainers, craftsmen and caretakers, able to provide you with the amenities, services and support usually only provided to someone with their own estate.
Now the comforts of your own luxury home include open acres of lush fields, wooded trails for hiking and riding, a fully-stocked pond, Gazebos, clubhouse and access to boarding, training and recreational equestrian facilities.
Imagine a community of horses, that let people watch, ride, and own them. Now imagine walking outside your door to a picture perfect lanscape where all your outdoor needs are anticpated and planned for....fields, walking trails...picnic areas... finally, imagine a place where you can come, stay, and not need to leave.
Everything for the Horse Lover, Right Next Door
Steps from the door of your new home, discover WILLOW CREEK FARM, with facilities as well-equipped as you will find anywhere. You will love easy access to indoor and outdoor arenas, scenic trails and top-notch training - all in a welcoming environment with people who share your love of the equestrian life style.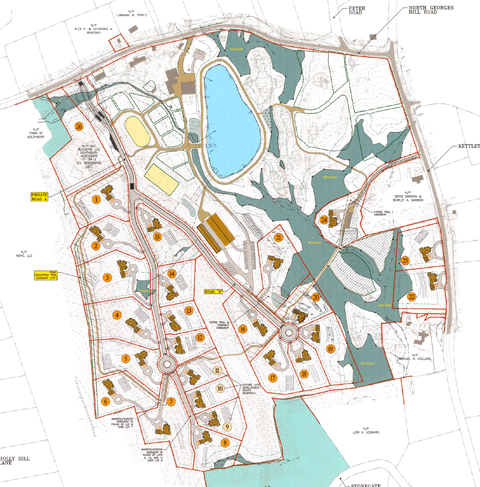 LOTS SIZES RANGE FROM 1 to 3 ACRES all with exception views and and characteristics! CLICK ON THE MAP TO DOWNLOAD A HIGH RESOLUTION PDF WITH LOT SIZES.
CLICK BELOW TO DOWNLOAD THE HIGH RESOLUTION PICTURE AS A PDF